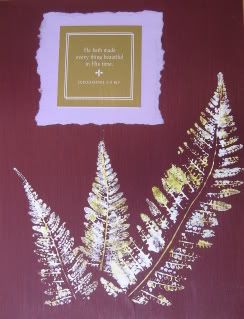 Kids have such a neat way of seeing the world. They can be so much better than adults at seeing the smallest details or the broader picture. My children have taught me to stop and smell the roses — quite literally. They love looking at leaves and bugs and birds and rocks and… nature. They love feeling leaves and describing the different textures, making funny faces at the "stinky" flowers they smell, telling me about all the different colors they see down the road. Their love of nature spills over abundantly into craft time. Between drawing it, decorating it, and gluing it, it's a wonder it took me so long to stumble on nature printing or using nature as stamps.
The basics of nature printing is that you paint the object, press the painted object onto a surface, remove the object, and enjoy it's image. Below is a slightly more detailed how to on the basics of nature printing.

Materials:

a couple of sturdy leaves
acrylic paints and paint brushes/sponges
tweezers
a sheet of cardstock
a couple coffee filters or a sheet of scrap paper
a thick, heavy book
tin/aluminum foil
How to:
1) prep your leaves by pressing them in the book. Place them between the pages and put a sticky note to mark where you placed the leaves. Press for about an hour, more if they are really thick leaves, less if they are really thin.
2) place your foil on a flat surface (table, cookie sheet, book etc) and place your leaf, underside up on the foil. Mix your paints to the desired color and paint the leaf. Don't put too much paint or your image will lack definition, and don't put too little or the paint will dry before it even gets to the printing stage.

3) with your tweezers, pick up the leaf by its stem and place it paint side down on your cardstock. Once it's on your paper, do not reposition it or you will end up with a smudged image.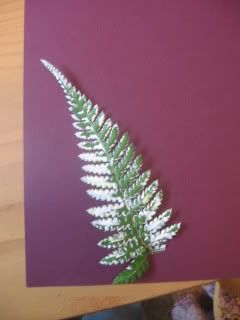 4) Place the coffee filter over the top of the leaf and use your hand to press the leaf into the cardstock. Make sure you apply pressure to the entire leaf. I suggest using a coffee filter because I feel that I can get a better feel for when I have pressed the etire leaf.

5) Carefully lift the coffee filter off and then remove the leaf with the tweezers. Let dry and repeat.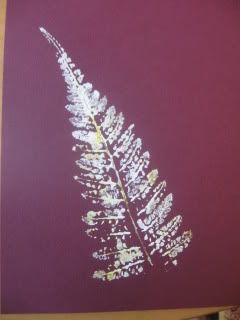 A couple closing notes. There are all sorts of other paints and surfaces you can use for printing, I just used acrylic and cardstock because that's what I have on hand. Your images can me more realistic or less, it's up to you. If you want to sink more deeply into the world of nature printing, a really wonderful resource is the book Nature Printing with Herbs, Fruits & Flowers by Laura Donnelly Bethmann. The book has all sorts of helpful tips, tricks, and background information, along with beautiful and inspiring pictures of prints the author has done.