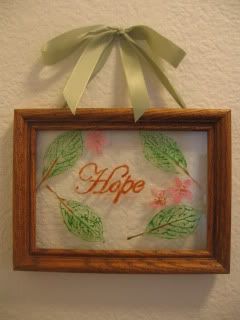 The inspiration for this came from a piece of art I found at a dear friends house last weekend. Keep in mind that liquids will wash away your paint — so no glass cleaners on the painted side. Also, remember that the edges of your glass will be covered by the frame so paint accordingly.
Materials:
wood frame with glass
paints and brushes
cotton swab (for fixing mistakes)
computer, printer, paper
ribbon
drill with bit
embroidery needle
1) take the glass out of the frame and set the frame aside. Clean the glass and let dry. Paint the glass how you like. I used the nature printing tutorial for the leaves and flower prints. I placed a white sheet of paper underneath for better visability. If you're using white paint, use a dark paper underneath. Damp cotton swabs are ideal for fixing little mistakes. Let dry.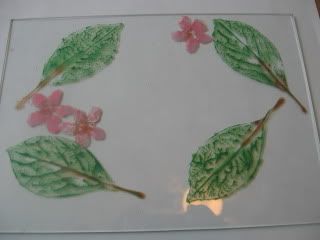 2) for the word, I opened up a new word processing document, typed the word I wanted, found the font I liked and enlarged it to the size I wanted. To figure out the right size, zoom to 100% and then hold the painted glass up to the screen, position the word where you want it to be, and adjust the size as needed. In order to get the reverse image, I specified paper type as "t-shirt transfer", followed the on screen instructions for how to adjust my printer for that setting, and then printed.

3) I then placed the word under the glass and positioned everything where I wanted it to be. Then I painted over the word.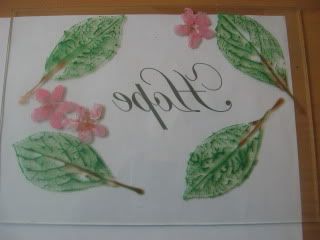 4) while the word is drying I prepped the frame. I drilled two holes at a 45 degree angle from the top. To get the angle, start the bit by drilling a divet straight down, then angle the bit and continue drilling. Thread the needle with the ribbon and insert from top to bottom of one hole and then from bottom to top in the next hole.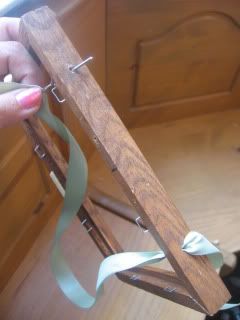 5) trim the ribbon, add the glass, and secure. My frame had stays in the frame itself. That's kind of unusual. You may have to super glue/epoxy the glass to the frame. This picture also shows the back of the frame and what the ribbon looks like back there.

6) tie a bow in the top and make sure it's going to hold. It doesn't have to be centered because you can adjust where the bow is located by sliding the ribbon along the back of the frame. Trim ends and hang.