Here's a fun little craft for you and the kids to celebrate Earth Day on April 22nd.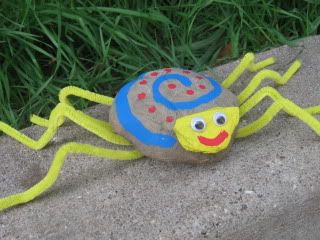 Lulu was invented when my daughter came home with a kindergarten project that was due. The project was to either collect a live spider and bring it in to class, or to make a spider and share it. Being the Arachnophobe that I am, I opted to make a spider. With the plethora of rocks and pipe cleaners our house has… mama had an idea! After applying some paint, glue and googly eyes, Lulu the rock spider was born.
How to make your own rock spider
Supplies: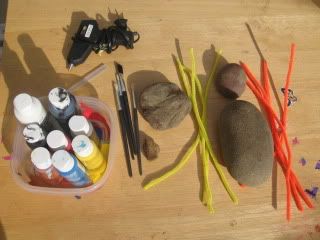 1 medium/large rock
1 small/medium rock
4 pipe cleaners (if your large rock is a really large rock, you'll probably need 8 pipe cleaners)
(note: there are enough rocks and pipe cleaners in the picture to make two spiders)
2 googly eyes (not pictured)
glue gun with glue sticks (epoxy would work better but epoxy can get messy with kids)
acrylic paint and paintbrush (and items needed to paint, water, papertowels, etc.)
other decorations if wanted
1) wash off the rocks with soapy water and then dry thoroughly. the dirt will make it so that the glue doesn't stick very well and the paint rubs off so be sure to wash really well.
2) Figure out where you want to place the smaller rock "head" and apply glue liberally to attach the smaller rock onto the larger rock "body"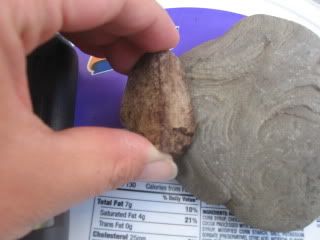 3) paint and decorate the rocks as desired and let dry. We didn't paint the underside of our rocks which make it easier for them to dry without sticking to the paper towel.
4) glue the eyes on the head. Yes, we know that spiders have more than two eyes… but it's pretty hard to fit 8 googly eyes onto one small rock. If you're trying for something more life like as a teaching tool, you can always paint the eyes on.
5) Hot glue the legs under the body. If you space them out a little, your spider is more likely to sit flat instead of tilt forward or backward when you're done.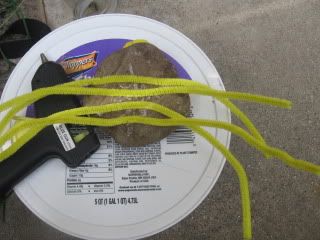 6) Put glue over the top of the legs too so they will stay more secure.
7) After the glue dries well, flip your spider over and shap the legs.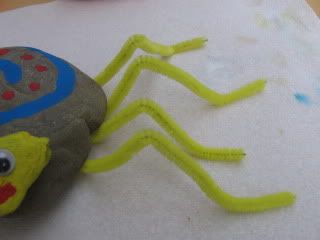 8) Enjoy your new little creation!